With KISS Javaslider you can install a slideshow as an eyecatcher for your website.
KISS Javaslider
A picture paints a thousand words. The days are over where users battled their way through endless text deserts. In the age of visual communication content must be presented user friendly and interesting by using images and other media.

Ever thought about pimping up your website by a slideshow with varying images? Look at the amazing slideshow on top of this page.

Unfortunately good looking slideshows commonly use Flash. Flash is a little bit unfavourable to the user because it has a rather high memory ressources consumption. The user needs a flash player to be activated in his browser. And last but not least Flash components are suspicious to entail risks because they are often abused to install trojans or other malware on the user's computer.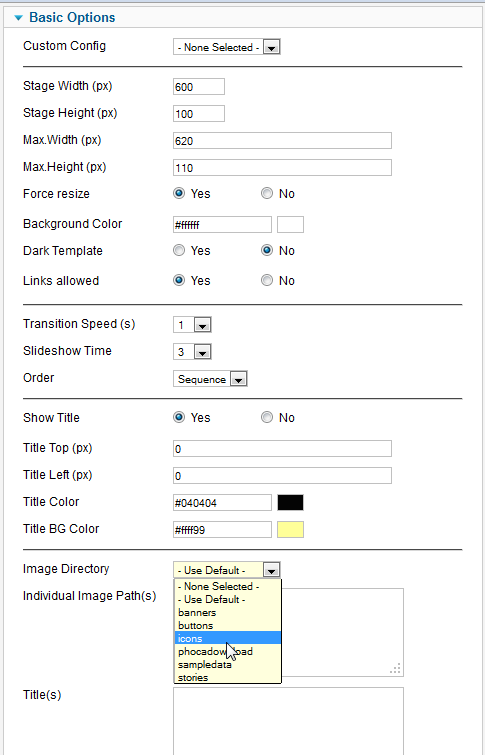 KISS Javaslider uses javascript instead of flash. The Joomla module is a very easy configurable software which searches for images in a predefined directory and displays them one-by-one via Javascript. Many transitions- and fade effects can be configured.

Settings are made from the backend configuration panel. With the predefined settings, the module works out-of-the-box, however many settings can be changed to match the user's needs.
Just select your image directory, define the stage width if necessary - and you are done. However the module is capable to do more.

It can show images from different directories. The image location can be entered in special text boxes as well as the image links and image titles (captions).
The slideshow can also be switched off entirely - if you are running into memory problems or third-party components overwrite the module's Javascript code. In this case just set the 'Slideshow Time' value to 0 and there will be no further image rotation. A new image is only displayed when the user selects another function on your website.
Besides the possibility to display images from a certain directory, you can create your own configuration file and save it to the subdirectory /media/mod_ksjavaslides/config. With this method, collections of images can be created and put on the website with one click on the select box 'Custom Config'. As an example you could display seasonal images in your website's header .
The 'custom configuration' requires some knowledge of the structured XML language. We recommend to have a look at the sample file 'demo_1.xml'.
In the configuration file not only images can be predefined but also titles, colours, display times, transitions and image links.

The module comes with a German and English language file and can be downloaded in our download repository.